Chemical name:
Tert-Butyl Peroxy Benzoate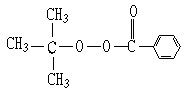 • Safety data
Thermal decomposition Temp.……60℃
Flash point…………………Open 65℃/ Shut 19℃

• Properties
Density(
)…………………1.043
Refractivity (
)……………1.499
Theoretical Active oxygen…8.24%

• Specification
Appearance……………………Light yellow ,transparent liquid Assay………………………Min.98%
Brief Introduction
Enox®
TBPB is a low volatility, high purity, liquid, aromatic peroxyester, is effective as medium temperature initiator for polymerization of a broad spectrum of monomers, e.g. styrene, ethylene, acrylics. It is also used to cure (copolymerization) unsaturated resins.

•Half Life Data
Activation Energy…………33kcal/mole
10hr.Half Life Temp.…………………105℃
1hr.Half Life Temp.…………………125℃
1min.Half Life Temp.…………167℃

• Solubility
Soluble in a alcohol, esters, ethers, various types solvents.
Insoluble in water, glycerin.
Slightly soluble in ethylene glycol.

• Package and Storage
20kg or 25kg, net, PE drum.
If low colour is critical to the customer, then the material should be keep beloe 10~15℃

• Extended Products
Enox®TBPB-75
Assay:75%, in organic solvent.
Enox®TBPB-50
Assay:50%, in organic solvent.